Table conversation: a dialogue on choreography | Publication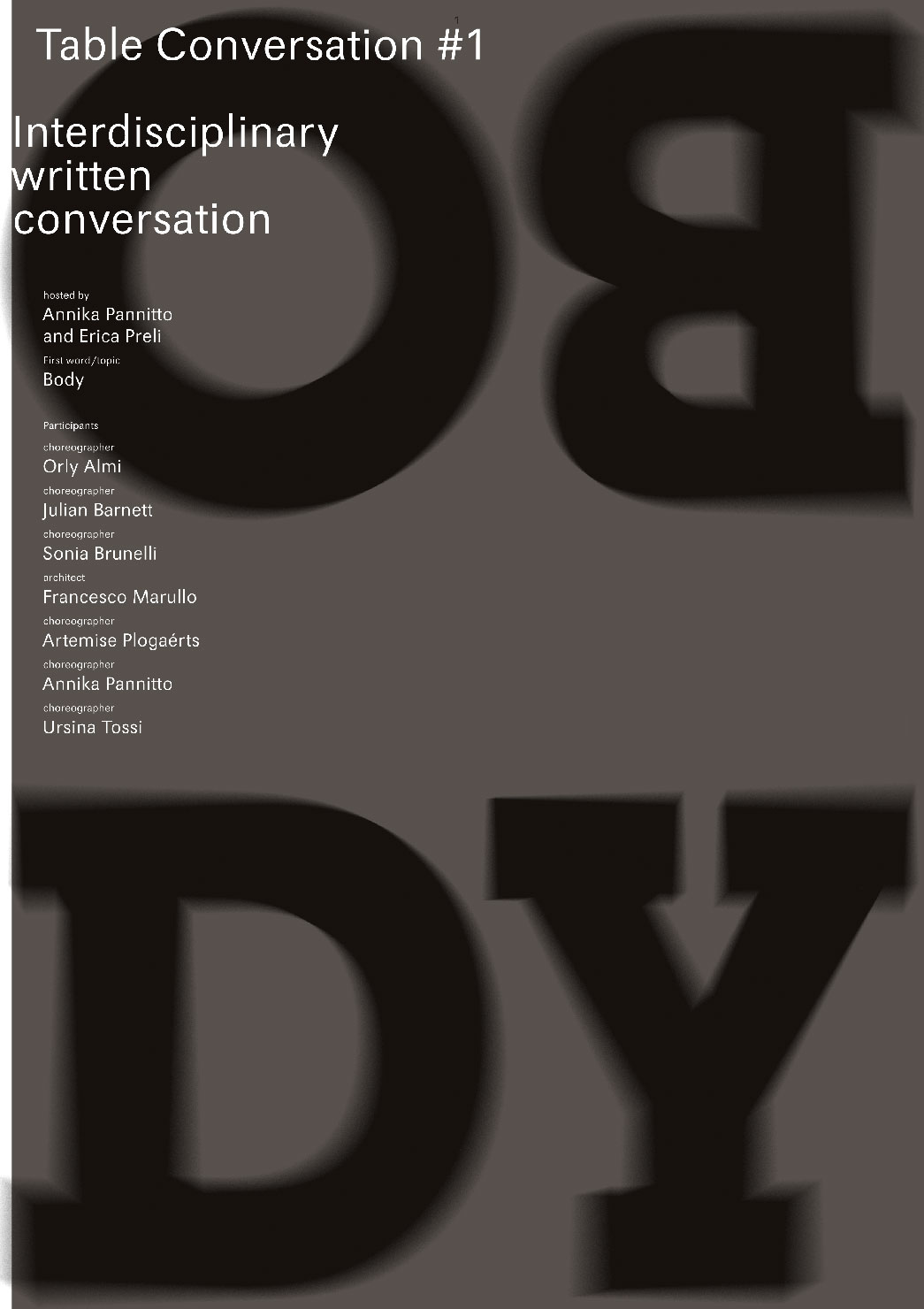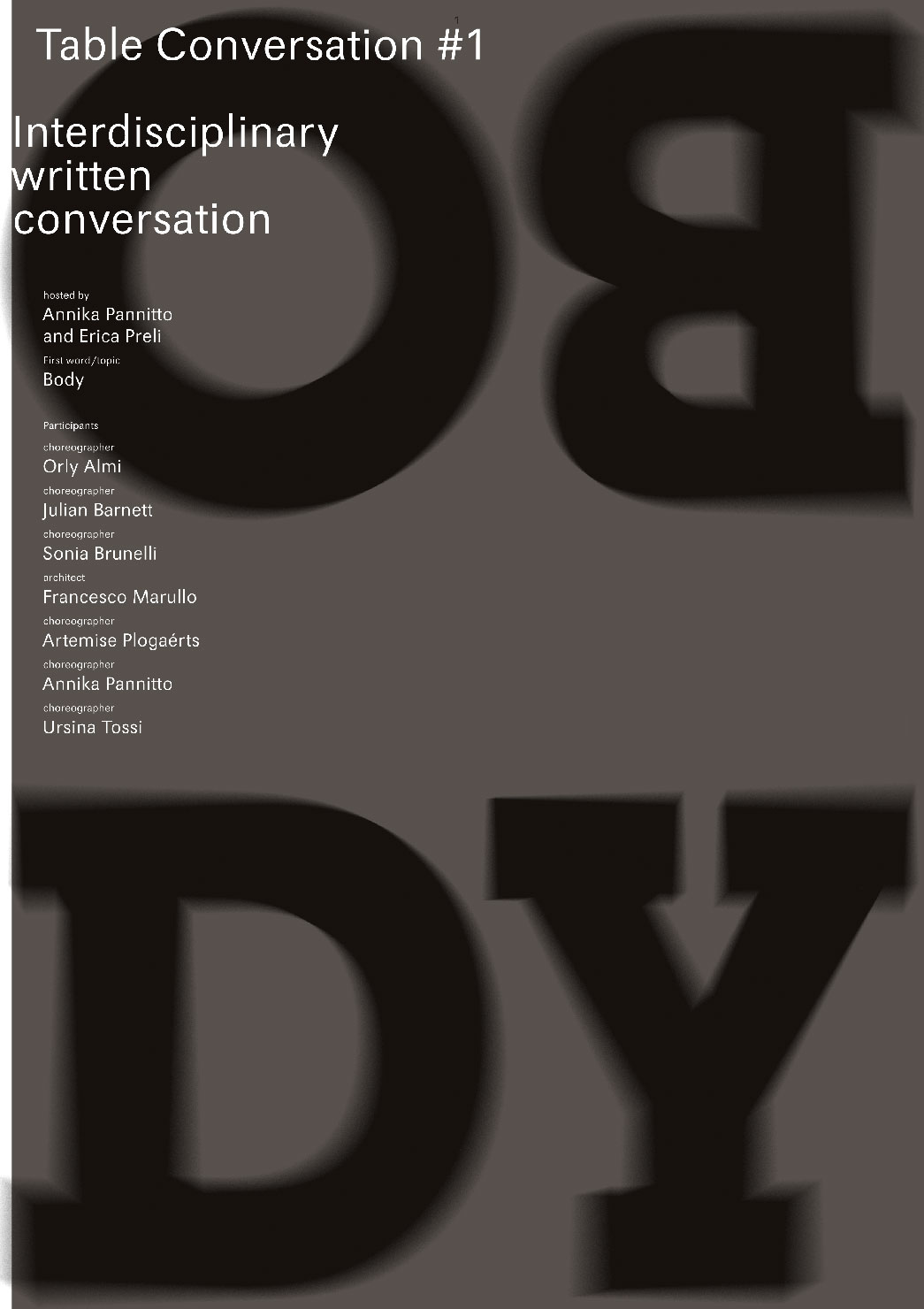 Interdisciplinary written conversation hosted by Annika Pannitto and Erica Preli

Table Conversation is an exchange of expertise among artists from different disciplines and backgrounds. The project started as a 'table conversation' because it evokes a concrete image that could introduce the participants and the reader to an informal conversation where thoughts, ideas, reflections and questions could find their place.
We imagined a round table where everybody talked while eating or having a drink, free to leave the table whenever they wanted and come back with thoughts, questions, references and images.
Table conversation has not been thought of as a place for definitive answers but more as a space for exchanging knowledge and articulating words/topics that are sometimes taken for granted. The chosen topics are strictly connected to Annika's own practice and, at the same time, are open enough to give space for reflection.
We started with an online blog where all participants could log in and comment on others' texts about the proposed words/topics. Though we really enjoyed the blog atmosphere, we knew that we didn't want to keep it online and decided to have a printed version to 'make it real' and tangible like a real table.
We gave a very tight schedule for each topic that has not been respected (which, by the way, we also appreciate and read as a way to refuse given rules!) The blog has had its difficulties and it has not been easy to keep it alive, partly due to each artist's personal agenda and partly due to the main idea of having a table conversation, which actually never happened. This project is an experiment and it reflects our great interest in exchanging expertise as grounds for collaboration. We believe that, through each text, it becomes clear that each of these artists has been searching for a specific direction to enlarge the scope of his/her own thinking about their own work and about artistic practice in general.
The different points of view interconnect and create a shared field. First, we invite the reader to look at a sort of map that speaks about diversities and similarities in how the body and the condition(s) in which it moves can be perceived, reinvented and still excavated in contemporary choreography.

The publication is based on four keywords that emerged from Annika's research at the Artez Master of Choreography on choreography as a practice that organizes the latency between knowing and not knowing and captures the less visible produced by the body in motion, where latency is understood as a movement itself that generates spaces and possibilities.
The keywords BODY, CONDITION, ARTICULATION and RESONANCE are also related to the practice of the "emersion", a physical practice that sees movement as emergent in its relation with time and space and immersed, because it comes from within the body.
Body is the human body, the body of the work, space as another body.
Condition(s) is the set of rules that exist before physical movement.
Articulation is the moment where the body makes time and space.
Resonance is what remains after the body has passed through space, a trace.

The publication is a chance to enlarge the understanding of those topics, trigger an exchange of different expertises and also an attempt to re-invent and re-think the frames in which artists operate and research.

The Stokroos foundation contributed financial support.
Table conversation is a collaboration between
Annika Pannitto, choreographer, and Erica Preli, graphic designer.
Annika Pannito
Terug